Publications
NALS members receive four color Quarterly Bulletins (QB) each year, issued in March, June, September, and December. The Quarterly Bulletins contain articles of interest about lilies, as well as the Society news and information about lily shows.
Members also can purchase yearbooks. The Yearbooks contain articles of lasting interest, and include a section with color pictures. NALS has issued Yearbooks since its inception in 1947 – 2012, and the Yearbook series is a virtual treasure trove of information about lilies and lily growers.
Many back issues of the Yearbook are available from the society, and they are a wonderful source of knowledge about lilies. Additionally, NALS offers a DVD containing the first 50 volumes of the Yearbook, over 6,800 pages of lily information! Please visit the NALS Store to purchase the DVD or the bound yearbooks.
A sample of interesting Yearbook and QB articles and can be found in PDF format on the Publication Sample Page.
The Society has thr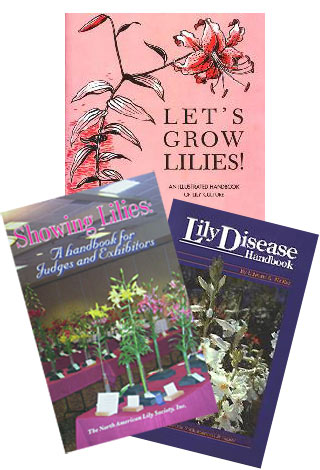 ee additional publications for sale. Please visit the NALS Store for online ordering information.
"Showing Lilies: A Handbook for Judges and Exhibitors" is a 90 page manual for the judge, exhibitor and show committee, edited by Eugene Fox and Maureen Barber. This manual was completely revised in 2006, and is an excellent resource for those wishing to show lilies or to learn about judging and lily classification.
"Let's Grow Lilies" by Virginia Howie (included with new membership) is a 48 page illustrated handbook of lily culture, covering virtually everything you need to know about growing lilies. "Let's Grow Lilies" was updated in 2011 and includes a color photo section.
"Lily Disease Handbook"  is a 32 page well illustrated handbook by Edward A. McRae, intended to help the home gardener recognize, understand and control lily diseases.