NALS Digital Yearbook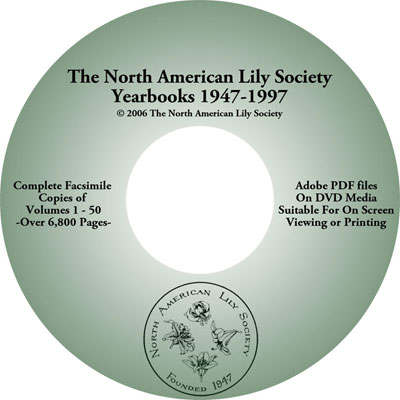 Digital facsimiles of the first fifty volumes of NALS Yearbooks (1947-1997) are now available on one DVD! Now you can easily and conveniently access over 6,800 pages of the most comprehensive lily information available, at a price much lower than purchasing the bound volumes.
The 1947-1997 Yearbooks have been converted into high quality graphic Adobe PDFs that can be viewed using the Adobe Acrobat Reader (available free from Adobe). All of the original text, graphics, and photos are included, and the files are suitable for on screen viewing or printing. A sample PDF is available for download, containing pages from the 1947-48, 1970, and 1990 yearbooks.
The DVD is compatible with computers using Windows, Macintosh, or Linux operating systems. A DVD drive is required; the files can not be accessed from a CD drive. The files can be viewed directly from the DVD, or can be copied to a hard drive for faster access.
The cost of the DVD is $59, plus $6 for postage worldwide, for a total cost of $65.00. Orders will be shipped via USPS Priority Mail for orders within the United States, and via Air Mail to other countries.
Please note that the DVD and its contents are copyrighted by The North American Lily Society. The DVD cannot be copied or distributed, in whole or in part, without written permission from The North American Lily Society, with the exception of copying the files to a hard drive or backup media for the own use of the purchaser.